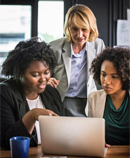 TM helps one have a healthy balance of work and home by reducing overall stress and allowing one to relax and enjoy life more.
Attain work/life balance
by TMWomen mini-magazine online
25 June 2023
During the Transcendental Meditation (TM) technique, the mind experiences a field of peace and happiness – its own deepest nature. This carries over into daily life, bringing inner confidence, stability, and joy along with the ability to be more spontaneous, tolerant, and intimate with others. The TM practice before work in the morning has been shown by published studies to:
Increase Intelligence and Creativity
Increase Efficiency and Productivity
Improve Problem-Solving Ability
Reduce Worksite Stress
Improve Leadership Development
Improve Physiological Stability During Task Performance
Increase Self-Confidence and Self-Actualization
Improve Verbal and Analytical Thinking, Synthetic and Holistic Thinking
Meditating after work helps you recover from the stress of the day so that you can truly enjoy your personal life and bring more to your relationships each evening.
Working mothers report that the increased creativity and efficiency from daily TM practice help them find the extra energy and capacity to meet the needs of a family.
Watch a wonderful six-minute discussion on success in work/life balance by Arianna Huffington and Patricia Harrison, president and chief executive officer of the Corporation for Public Broadcasting.
© Copyright 2023 Global Mother Divine Organization