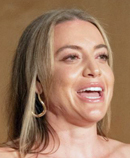 Tara credits a lot of her spontaneous creativity to her TM practice.
Consciousness in music
by Maharishi International University, Fairfield, Iowa, USA, MIU Allumni News
13 June 2023
On Friday, June 23rd, the Maharishi International University (MIU) Alumni Office presented the Alumni Distinction and Service Award to Tara De Santis. This award is given to an alum who has distinguished themselves professionally or through service to their community.
Tara graduated from MIU in 2017 and since then has been taking the Quebec music scene by storm. Under the artist name Véda, she has released over 15 songs and will be debuting her first studio album later this year.
Her songs have garnered several hundred thousands of plays and have enabled her to obtain three different artists grants and a nomination at the Canadian Independent Music Video Awards for her song "Quiet." Recently she signed with the label "Musicor" and has been featured in many different press articles including one in Elle Quebec.
As her artist name suggests, development of consciousness is foundational to Tara's music. One of her main goals as a musician is to create uplifting lyrics that support unity and peace. Additionally, she credits a lot of her spontaneous creativity to her
Transcendental Meditation (TM)
practice. Tara learned to meditate at a young age and comes from a family of TM practitioners.
Tara came to MIU straight out of high school and enrolled in the Media and Communications degree program (now called Cinematic Arts and New Media.) She studied filmmaking and graphic design however she was most inspired by the digital music and sound design classes. Those courses helped to give her the tools to make her music. In fact, Tara wrote and recorded many songs in the recording studio on the MIU campus.
She then enlisted the help of her professors to learn about mixing and mastering to ensure that the sound quality of her tracks was optimized to the industry standard. Tara's love for music didn't stop there. As a student she also volunteered at the local Fairfield radio station and frequently DJ'd in town.
If Tara's dynamism as a student was any indication of her career path, then it's no surprise to see her making waves in the music scene. We are excited to watch as Tara continues to infuse positivity and consciousness into the world through her music.
© Copyright 2023 Maharishi International University