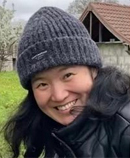 Yao appreciates the Transcendental Meditation technique and says, "I see it as self-healing and self-improvement."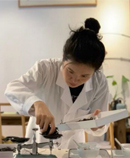 Yao is passionate about tea because brings her and others joy.
Yao has enjoyed working on the MIU farm with cows and fellow students.
MIU student expert in the art of tea
by Maharishi International University (MIU), Fairfield, Iowa, USA, Achievements
25 June 2022
Maharishi International University (MIU) student Yao Yao grew up in the province of Zhejiang in eastern China. As a child she studied classical Chinese art forms, including painting, calligraphy, and traditional dance.
Yao's parents encouraged her to study marketing, but she realized she wanted to study subjects that had more immediate benefit to her life. About ten years ago she came to the US and became a certified yoga teacher and then a licensed sports massage therapist.
At the same time, she developed new interests in other traditional Asian arts—Thai boxing and Chinese tea culture. She began studying the history, philosophy, and medicine of tea remotely with a teacher in China. Then she travelled to Beijing to study at the Xian Lai Wu Shi tea academy and became a certified tea art specialist. "I am passionate about tea," she said. "It brings me joy and it brings other people joy."
In the summer of 2021 Yao was scheduled to travel to China for another course on tea, but due to COVID travel restrictions her trip was cancelled at the last minute. She decided to expand her knowledge of agriculture and found MIU's Regenerative Organic Agriculture Program. The nine-month certificate program seemed the perfect way to spend her time until she could return to China to study tea.
She also began developing a business to export organic specialty teas from China and traveled around the country performing tea ceremonies in tea houses.
Yao enjoys the hands-on nature of the agriculture program and working on the MIU farm with fellow students. She has been sharing her stories and appreciation of tea with students and the Fairfield community.
Having practiced Buddhist mediation before, Yao appreciates the Transcendental Meditation technique. "I see it as self-healing and self-improvement," she said. "I recheck my health and mental state and I appreciate the time after class when we meditate."
© Copyright 2022 Maharishi International University