Denise says that the Transcendental Meditation technique has helped her feel more calmness in the tense situations in her sometimes stressful job.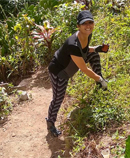 Through her classes at MIU, Denise has had the opportunity to learn more about the tropical fruits in her orchard in Jamaica.
Bringing regenerative farming to Jamaica
by Maharishi International University, Fairfield, Iowa, USA, Achievements
31 January 2022
Maharishi International Unversity (MIU) student Denise Cagley-Jefferson got her first taste of volunteering when she accompanied her mother to the local soup kitchen in Waterloo, Iowa. That experience, Denise said, shaped her future and led her on a service-oriented career path.
For 25 years she has worked in non-profit management, international development, and humanitarian assistance with organizations such as Volunteers of America and the Peace Corps. For the past five years, she has coordinated international humanitarian efforts for USAID in war-torn and disaster areas, including Syria and Venezuela.
In 2004 Denise founded an NGO in the rural mountains of Jamaica and established two health and educational resource centers, serving five villages. In 2020 she purchased a small farm in the Blue Mountains of Jamaica and now splits her time between her farm and her home in Atlanta, Georgia.
Denise is also a yoga teacher and has known about MIU and its Consciousness-Based approach to education for a long time. After purchasing her land, she wanted to learn about becoming a farmer. When searching online, she discovered MIU's new online master's in Regenerative Organic Agriculture Program and applied the same day.
She learned the Transcendental Meditation technique in Jamaica and found it helpful in her sometimes stressful job. "I have noticed that I have more calmness in conflict and in tense situations," she said. "I am not getting emotionally affected."
Through her classes at MIU, Denise has had the opportunity to learn more about the tropical fruits in her orchard, and met a farmer in Florida who volunteered to mentor her. She has also applied for a fall internship with the Rodale Institute.
Her orchard already has a variety of fruits and vegetables, including avocados, plantains, papayas, mangos, and bananas. She hopes to transition into full-time farming in the future and help educate local farmers about regenerative organic practices.
© Copyright 2022 Maharishi International University