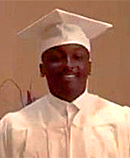 Leo Alexander feels that the Transcendental Meditation technique played a large part in his ability to stay focused on his goals and manifest his desires.
Connecting the African American community with Africa through business
by Maharishi International University, Fairfield, Iowa, USA, Achievements
12 August 2021
Leo Alexander III just graduated from Maharishi International University (MIU), earning a BA in applied arts and sciences with a specialization in business. For his senior project, he managed the construction of a greenhouse in Kenya, the installation of an irrigation system, and the transplantation of 1,000 strawberry plants. He has also implemented agroecological farming practices, such as water conservation, composting, and intercropping, while staying true to local agricultural techniques.
Although he was able to complete this project in a few months while being in Fairfield, Iowa, the idea for the business goes back to his teenage years in Houston, Texas. When Leo was learning about African American history and the untapped economic opportunities on the African continent, especially in agriculture, he decided to somehow connect the African American community with Africa through business and investments.
While attending a community college in Colorado, he heard about MIU and the Concept to Market Institute and applied. Leo arrived in January 2019, spent three months at the MIU Student Farm in the summer, and in September headed to Africa for a four-month internship. He visited small farms in Tanzania, Uganda, and Kenya and talked to over 1,000 people about running a farm business and sustainable farming practices.
Leo feels that connecting to deeper states of consciousness with the Transcendental Meditation technique played a large part in his ability to manifest his desire. "I couldn't have done it without meditation and visualization," he said. "TM helped me stay centered and focused on my goals."
Leo used the connections he made in Kenya to come up with his business plan and help him with on-site management. To finance the project, he used the funds from his stock trading activities. His ultimate goal is to make the project profitable, scale up the operation, and use the profits to help others in the Black community take advantage of similar economic opportunities in Africa.
"This idea presents a new win-win opportunity for African Americans to lift their economic boat while simultaneously lifting the economic boat of Africa," he said.
© Copyright 2021 Maharishi International University