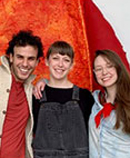 The success of the 2018 December graduates of the MA in Studio Art, Younes Kouider, Genevra Bell, Caroline Lichucki, is due to a a combination of their receptivity, hard work, and talent, said their professor Gyan Shrosbree.
MUM art students win scholarships to top graduate schools
by Maharishi University of Management, Fairfield, Iowa, USA, Achievements
3 June 2019
The three December graduates of Maharishi University of Management 's MA in Studio Art are all starting highly ranked MFA programs this fall. They all received full tuition assistance and two of them have living expenses covered.
The goal of the MA is to give artists who are hoping to enter an MFA program the opportunity to spend a year developing their work, assembling a strong portfolio, and receiving guidance from faculty on applying to graduate programs.
"Their success is due to a combination of being receptive and hardworking and of course talented," said Professor Gyan Shrosbree. "We help them with picking schools, photographing their work, writing essays and artists' statements, as well as helping them practice interviews and presentations."
Caroline Lichucki chose the University of Oregon, based on the engaging work the faculty and students produce. In addition to full tuition, she was offered a paid teaching internship for the duration of her studies. She plans to push herself to expand her creative horizons and produce a large body of work. "MUM's MA in Studio Art granted me the opportunity to be pushed beyond my comfort zone and grow beyond creative limitations," she said.
Genevra Bell will be heading to the University of California, Davis to study studio art. She hopes to continue her work on installation, sculpture, and video. The fellowship she received will provide her with full tuition assistance and a monthly stipend.
"The professors, Jim Shrosbree, Gyan Shrosbree, and Sean Downey, were incredible," she said. "The program allowed me to create a portfolio and also work on my artist's statement and theory, which was necessary when applying to schools. I 100 percent would not have gotten into the grad schools I wanted to attend without having done this MA."
Genevra also noted the contribution of the Transcendental Meditation technique to her success. "Coming to the studio clearheaded is essential for my ability to be productive," she said. "My TM practice is a critical tool for clearing out the stress and letting me get to work."
Younes Kouider received a full tuition scholarship to attend Yale University, which he chose from five schools based on its accomplished art faculty and its friendly and competitive environment. He will continue his work on sculpture. "The MUM MA in Studio Art helped me tremendously to get the confidence, the groundedness, the technical knowledge, and the understanding of both the practice of art and the current art world," he said.
In addition, Younes also received a scholarship to attend the Skowhegan School of Painting and Sculpture in Maine for nine weeks in the summer of 2020. Established in 1946, Skowhegan is a prestigious and intensive residency program for emerging visual artists.
© Copyright 2019 Maharishi University of Management