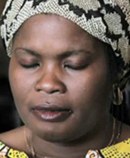 MUM alumna Leslee Goldstein traveled to Rwanda to speak about her dissertation research on 81 women in Uganda whose quality of life significantly improved after learning the Transcendental Meditation technique.
MUM faculty present in India, Rwanda, South Korea, and Bali
by Maharishi University of Management, Fairfield, Iowa, USA, The Review
20 March 2018
Maharishi University of Management (MUM) faculty have been making an impact worldwide in recent months, giving presentations in a number of countries around the world, including India, Rwanda, South Korea, and Bali.

The largest audience was in India, where 3,000 people heard a presentation in November from Bill Goldstein, dean of global development, about MUM's program in regenerative organic agriculture. His talk immediately preceded a talk by Microsoft Founder Bill Gates.

The event was a three-day conference and trade fair related to agriculture. Sustainable living professor A. Thimmaiah had been invited by the chief minister of Andhra Pradesh to participate but was unable to attend, so he requested that Mr. Goldstein fill in for him, since Mr. Goldstein was already traveling internationally.

Mr. Goldstein gave a 20-minute presentation on MUM's regenerative agriculture program, which is a method that goes a step beyond organic by using only natural resources that are renewed during the farming process to grow healthy food at no cost to the planet. He also spoke about Professor John Fagan's Health Research Institute.

Dr. Thimmaiah in Bali

In addition, last November Dr. Thimmaiah presented a two-week workshop in Bali for the purpose of creating a curriculum that combines principles of modern regenerative organic farming with the traditional Balinese knowledge of food and agriculture.

"Their traditional approach is based on the ancient perennial philosophy of Bali 'tri hita karana,' meaning all human actions should nurture nature, spirit, and human beings," Dr. Thimmaiah said. "Farmers there are very respectful of their natural resources and their traditional farming practices are attuned to the rhythms of nature."

He also led field workshops that taught simple, low-cost methods of organic farming to 35 teachers from five vocational or high schools. Dr. Thimmaiah explained the importance of the Transcendental Meditation technique in helping farmers to connect to the earth, soil, and plants. All of the students at these schools will be learning Transcendental Meditation.
His workshops came at the invitation of Bali's Ministry of Education and by the Bali Schools Project.

Dr. Leslee Goldstein in Rwanda

Also presenting internationally was PhD alumna Leslee Goldstein, who traveled to Rwanda in November to speak about her dissertation research on 81 women in Uganda whose quality of life significantly improved after learning the Transcendental Meditation technique.

Speaking at a national conference on psychology, Ms. Goldstein shared her findings on decreased stress, increased self-efficacy, and improved mental and physical health. She also presented a two-hour workshop that covered 40 studies on how Transcendental Meditation helps in areas such as blood pressure, drug addiction, PTSD, and anxiety.

"I received a great response to my presentations," Dr. Goldstein said. "It was attended by professors, students, and professionals in the field of psychology from Eastern Africa, as well as Westerners involved in non-governmental organizations and foundations. I made a lot of contacts, some of whom expressed interest in partnering with me on Transcendental Meditation projects and learning the technique themselves."

While in Rwanda Ms. Goldstein was also involved in teaching the Transcendental Meditation technique to 50 women in a rural village in partnership with African Healing Exchange. This is an organization devoted to restoring resiliency to Rwandan women impacted by poverty and by the tragic genocide in the 1990s by offering them the Transcendental Mediation technique.

Dr. Maheshwari in South Korea

Anil Maheshwari was invited to South Korea to present at the International Conference of Information Systems, the most prestigious conference in the field of data analytics.

Dr. Maheshwari presented a paper titled "Teaching data analytics from natural law." He explained that teaching the multidisciplinary field of data analytics requires comfort with multiple domains of knowledge, each with its own assumptions, concepts, and skills. He explained the need for an overarching framework that transcends and subsumes all the referenced fields.

His main point was that natural law provides an unchanging framework and a stress-free and sustainable path to continued learning. And he said that teaching from natural law helps enhance the student's capacity for comprehension and integration of diverse knowledge and skills.

He presented seven key natural law principles, along with examples of their applications in teaching data analytics.
© Copyright 2018 Maharishi University of Management