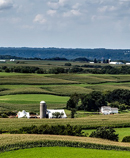 The Rural Business Development Grants program is a competitive grant designed to support targeted technical assistance, training and other activities leading to the development or expansion of small and emerging private businesses in rural areas.
MUM awarded USDA rural business development grant
by Maharishi University of Management, Fairfield, Iowa, USA, The Review
3 November 2017
Maharishi University of Management's( MUM) School of Business has received a USDA Rural Business Development grant for $46,500 to provide free seminars and workshops for businesses in Jefferson Count, Iowa.

This program is designed to offer technical assistance, training, education, and mentoring to help develop or expand small and emerging private businesses in rural areas.

The project will include 15 one-hour seminars and 20 four-hour workshops taught by MUM faculty members and invited guests.

These education and training programs will be open to the public and will be publicized via emails, ads, and posters.

According to David Goodman, the grant administrator, the topics to be covered will help entrepreneurs formulate successful business proposals and improve the ability of small businesses to conduct their business successfully.

Area entrepreneurs and small businesses are being surveyed regarding the topics for the seminars and workshops.

Dr. Goodman said the grant will aid economic development and help create and retain jobs in Jefferson County.

Partners on the project include the Fairfield Economic Development Association, the Fairfield Area Chamber of Commerce, the Fairfield CoLab, SCORE, the Fairfield Entrepreneurs Association, and Pathfinders RC&D.


© Copyright 2017 Maharishi University of Management