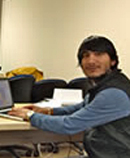 Dil Siwakoti from Nepal enjoys studying at MUM because it combines academics with personal growth.
Fulfilling a childhood dream
by Maharishi University of Management, Fairfield, Iowa, USA, Achievements
16 March 2016
Dil Siwakoti was working as assistant manager in a small restaurant in Albany, New York, when a new customer came in. His name was Tom Bojarksi, a teacher of the Transcendental Meditation technique, who told Dil about his work and travels in India and Nepal. Dil, who grew up in Nepal, immediately took to Tom and soon learned the TM technique from him.
About the same time, Dil was preparing to attend college. He was looking for a university that combines academics with personal growth, and when he learned about Maharishi University of Management (MUM), he knew he had found it. Dil began the pre-integrative medicine track in the physiology and health department at MUM in 2013 and is graduating this June.
Dil has been fascinated with medicine since he was a child. Growing up in a remote village in Nepal, he experienced the suffering his mother and others experienced due to the scarce availability of health care. "I had a vision to be a doctor one day, but not for money," he said. "I like helping people."
To gain some valuable experience, Dil has been working as a phlebotomist at the Albany Medical Center during school breaks. He has drawn blood from over 2,000 patients so far. Dil's goal is to become a general surgeon and incorporate Maharishi AyurVeda into his practice.
Dil says the practice of the TM technique has been a game changer for him, so he was compelled to take the TM-Sidhi course this past winter. "I started the TM-Sidhi program and right now I feel like I am making a quantum leap," said Dil. "My consciousness has been growing a lot, and it has been a wonderful experience overall. TM has had a good impact on my health and my academics."
© Copyright 2016 Maharishi University of Management