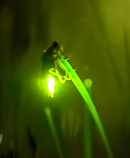 An MUM BFA graduate, Radim Schreiber's challenging and time consuming pursuit of visual enchantment with fireflies started almost 10 years.
MUM alumnus wins Smithsonian photo competition
by Maharishi University of Management, Fairfield, Iowa, USA, The Review and MUM website
19 August 2016
For the second time, Maharishi University of Management (MUM) alumnus Radim Schreiber has won a top award in the Smithsonian magazine annual photography competition, this time in the Altered Images category for his photo "Synchronous Fireflies," in which he superimposed images of fireflies flashing in synchrony.

There were 48,000 entries in this 13th annual competition. He also won the top award in the 8th annual competition in the Natural World category for a photo of a firefly.

His recent award-winning photo was taken in mid-June 2014 at twilight in Great Smoky Mountains National Park, Tennessee. Mr. Schreiber was in almost complete darkness surrounded by fireflies and witnessed an unusual natural phenomenon fireflies that synchronize.

He used low-light camera technology to take several long exposures over several minutes and merged them together to preserve detail and clarity.

He uploaded it November 2015 and it was selected as Shot Of The Day on December 24, 2015, then Editors' Pick, Finalist, and now Altered Images Winner.

The winning photos and finalists can be viewed online the Smithsonian website.
Radim's award-winning firefly images have been featured at CBS, NPR, National Geographic, Smithsonian Magazine, Iowa Public Television, The Weather Channel, The National Wildlife Federation, and KEW Royal Botanical Gardens.

© Copyright 2016 Maharishi University of Management®