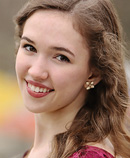 Jaya Muehlman, who is planning to be a professional dance and animal rights activist, says that Transcendental Meditation helped her to see the big picture and be organized when applying for college.
Bimba Shreshtha, who received a full scholarship to the Unversity of North Carolina, says that TM helps him be more clear and rested, so he can deal with pressure.
The TM advantage for education
by Christine Albers at Enlightenment, TM Magazine, issue 25
22 September 2015
One of the main reasons parents choose Maharishi School of the Age of Enlightenment (MSAE) in Fairfield, Iowa, for their kids is because Transcendental Meditation (TM) is part of the curriculum. Students find that TM provides an advantage in learning—because their minds are more settled and focused, learning is effortless. In fact, so many students excel at Maharishi School that it's sometimes hard to choose which students to honor for academic success at the end of the senior year.
At this year's graduation, MSAE presented a new twist on an old tradition. Instead of selecting one Valedictorian and one Salutatorian, the School created a new Academic Excellence Award, granted to five seniors who maintained a perfect grade point average of 4.0 throughout four years of high school.
In addition, two graduates received the Pioneer Award, considered the highest distinction, granted to those who exhibit the qualities of balance, humility, kindness, inspiration, respect, responsibility, stability, and self-sufficiency.
Here two of the seven awardees speak about the School's unique curriculum, including daily practice of the Transcendental Meditation (TM) program, which helped them overcome teenage stress and become successful and happy students. Five more award winners will be featured in a future articles.
Pioneer Award Winners
Jaya Muehleman: My parents are Maharishi University of Management graduates, and I was born and raised in Fairfield.
I am following my dream of attending one of the country's top ballet programs, but the application process was overwhelming. After taking the SAT and ACT tests, knowing the results would dictate the next four years of my life and my entire future, I had to travel to each college I had applied to in order to audition. It was stressful. My Transcendental Meditation program was the reason I was able to get through the process. It helped me see the big picture and be organized to accomplish it all.
My classmates and teachers are wonderful. With my classmates, experiencing deep levels of consciousness in our daily meditations creates strong bonds, unlike with any other people I've met. I can't remember one instance where any of us has gotten mad at each other. There have been times when someone was uncomfortable with something, so we brought it up, and it never turned into anything more than a conversation. Issues are resolved quickly here.
Since we have small classes, we develop strong relationships with our teachers. They are easy to go to if we need help and are like extended family—aunts and uncles.
Bimba Shreshta: Originally from Kathmandu, Nepal, we moved to Fairfield when I was in 6th grade. I was a pretty shy guy, but over time I made good friends and got involved in speech contests, science fairs, sports, and Rotary Interact.
TM gives me a break! My days are so busy. I worked as a software developer in 10th and 11th grade and had to stop in the middle of 12th grade because it was too much work. Sometimes it's overwhelming when I have to write five papers, go to work, prepare for the FIRST Robotics Competition, and compete in a basketball game. TM helps me forget about the pressure. After meditation, I'm more rested and clear. I remember why I'm doing all these things—because I like them.
In 10th grade I entered my first science fair and learned about competition. The next year I came up with a better project and won the State Championship. Since then, I've won many science awards, culminating with the Forward Thinker Award at the INTEL International Science Engineering Fair.
My favorite experience at Maharishi School has been sports, away games, sitting in the back of the bus talking to friends, and enjoying success in tennis, golf, basketball, and soccer. Last year our tennis team won the historic Triple Crown in Iowa, and this year we were State Runner-Up.


© Copyright 2015 Maharishi Foundation USA, a non-profit educational organization.