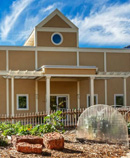 MUM's Sustainable Living Center is an inspiring example for universities around the world that want to become more green.
Sustainable Living Center recognized by United Nations
by Maharishi University of Management, Fairfield, Iowa, USA, The Review
9 October 2015
A two-page case study of Maharishi University of Management's (MUM) Sustainable Living Center is being included in a new 160-page PDF book published by the United Nations that helps to "inspire, encourage, and support universities to develop and implement their own transformative strategies for establishing green, resource-efficient, and low carbon campuses."

Titled Greening Universities Toolkit V2.0, the book details strategies and tactics that universities around the world can use to reduce their carbon footprint, address climate change, increase resource efficiency, enhance ecosystem management, and minimize waste and pollution.

The final chapter of the book includes 60 pages of "global exemplars" two-page case studies of "exemplary campus greening initiatives."

The Sustainable Living Center case study includes a photo of the building, a description of MUM, the issues the building was intended to solve (students studying sustainability in a building that wasn't itself sustainable), and extensive detail about the building.

The Greening Universities Toolkit V2.0 booklet will be available soon free online.
© Copyright 2015 Maharishi University of Management