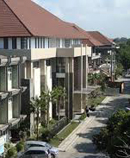 Bill Goldstein, MUM dean of global development, said that they were impressed with the Bali delegation's open-heartedness and appreciation of Consciousness-Based Education.
MUM signs agreements with Bali's Warmadewa University
by Maharishi University of Management, Fairfield, Iowa, USA, The Review

18 November 2015
A delegation of nine officials from the Indonesian island of Bali visited Maharishi University of Management (MUM) campus recently, including the minister of education and the head of Warmadewa University, to discuss collaborations with MUM.
Other visiting officials included the dean of the medical program, the head of the molecular biology laboratories, two representatives from Warmadewa's development collaboration office, and the principal of a school.
Warmadewa University, founded in 1984 and located in Denpasar in Bali, has over 6,000 students and over 275 teaching staff. It offers 14 undergraduate and 4 graduate programs.

During their visit, the delegation met with various MUM departments, toured Maharishi Vastu architecture buildings, visited Maharishi School, visited the Pandit campus and other Maharishi Vedic City attractions, heard a presentation on research on the Transcendental Medication technique, and more.
The visit of the delegation of educators from Bali resulted in a formal agreement that describes four areas of collaboration with Warmadewa University and an agreement for a collaboration with SMA Negeri Bali Mandara School.

The Warmadewa collaborations include their medical school, agriculture program, management department, and biology department.

"We were very impressed with their open-heartedness and clear appreciation of Consciousness-Based education and the value it can have for their island," said Bill Goldstein, MUM dean of global development.

The goal of the memoranda of understanding that were signed is to launch phase I projects of a manageable size that can be quickly and effectively implemented as building blocks for larger successes.

The initial phase of the medical school collaboration will entail offering short courses on the Transcendental Meditation technique, Consciousness-Based education, and integrative medicine to the faculty of the medical school, many of whom have already learned the Transcendental Meditation technique.

The ultimate goal will be to develop a joint or dual-degree medical program that would include Maharishi AyurVeda and integrative medicine.

Similarly, a first step in the collaboration with the management department will be to offer short courses to Warmadewa faculty and executives on topics such as sustainable business, leadership, communication skills, employee health and wellness, peak performance, creativity, and stress management.

Some of these courses have been developed, and others will be created, with instruction to be online, on-site, or a combination of the two.

Many opportunities for collaboration exist in the area of sustainability, given that Warmadewa has significant agricultural land available for a sustainable agricultural initiative. This could include a demonstration farm, System of Rice Intensification project, medicinal Ayurvedic herb garden, community sustainability center, sustainable schoolhouse design, and a training program in low-cost agriculture.

There was also deep interest in MUM's research programs in neurophysiology and epigenetics. An initial goal is to set up a brain lab and brain and genetics research programs. Spearheading this initiative will be MUM professor and geneticist Supaya Wenuganen, who is originally from Indonesia and speaks the native language of Bali.

Short courses will again be the focus for the collaboration with SMA Bali Negeri School, where the 300 students are already practicing the Transcendental Meditation technique and are intending to learn the TM-Sidhi program.

The headmaster of the school invited MUM to offer his students short courses in areas such as entrepreneurship, leadership, public speaking, sustainable agriculture, and sustainable business.

The Transcendental Meditation technique is already part of the curriculum at a Bali high school for underprivileged and talented students. With support from the Ministry of Education, all 400 students practice the technique.
© Copyright 2015 Maharishi University of Management