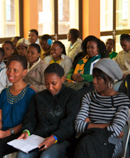 Maharishi Invincibility Institute is a non-profit organization established in June 2007 to develop a new generation of leaders for South Africa by supporting the students' intellectual, emotional, physical, and spiritual growth.
Top global software company helps fund Maharishi Institute students
by Maharishi University of Management, Fairfield, Iowa, USA, The Review
5 May 2015
Students at Maharishi Invincibility Institute in South Africa, which partners with Maharishi University of Management (MUM), will now have their education supported in part by SAP South Africa.

SAP, the world's largest business software company, is active in 143 countries and has 30,000 enterprise clients. SAP South Africa is issuing 19.5% of its shares to a broad-based black economic empowerment trust that will distribute dividends to beneficiaries, who will use the funds to cover education costs at accredited institutions.

According to a press release, SAP South Africa selected Maharishi Institute because it "provides not only access to an effective education but also provides the relevant life-skills and ethos that assist in transforming previously disadvantaged graduates to market-ready accomplished individuals."

Maharishi Institute provides tertiary education in the areas of finance, technology infrastructure, and life skills. Students at MII have the option of taking their third and fourth years of undergraduate work from MUM in order to receive an MUM undergraduate degree in business.
© Copyright 2015 Maharishi University of Management