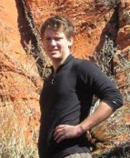 Shane Zisman's desire to use both his legal skills and his passion for sustainability and social justice found filfillment with his job at Earth Open Source, a nonprofit organization that aims to restore the open source roots of the food system to help feed humanity, increase equity, support self-reliance, and foster healthy ecosystems.
MUM alumnus develops global sustainability programs
by Maharishi University of Management website
3 July 2015
"The main benefit of MUM and Consciousness-Based Education for me was learning how to become clear within myself," says Shane Zisman, 32, an MUM graduate in 2003 who went on to earn a law degree at Vermont Law School in 2011. "Once you've done that, you can actually watch your desires manifest in the world through the support of nature."
Or, some people might just call it good luck.
Shane says he observed evidence of that support showing up just after he graduated from law school. It was late 2011, and the economy was still sluggish with jobs hard to find. "People in my class were told by interviewers they were competing against a thousand applicants," he says. "You were lucky if your application was even reviewed. I wanted to work in the public sector in environmental law, which is what most everyone else wanted, too. It's a crowded field."
Even with all the competition, Shane received not one but three job offers—in Vermont, Colorado, and Fairfield, Iowa, home of MUM. He credited not only his excellent academic record for all the interest, but also his consciousness-related work, his daily Transcendental Meditation practice, and the benefits of those efforts. He accepted the Fairfield position at Earth Open Source, a nonprofit organization that challenges the use of pesticides, artificial fertilizer and genetically modified organisms (GMOs) in agriculture.
Earth Open Source believes that these technologies pose a danger to health and the environment. Instead, they support agroecological, farmer-based systems that conserve soil, water, and energy and that produce healthy and nutritious food free from unnecessary toxins. The organization's funding goes mainly into scientific research, policy formulation, and sustainable rural development.
As program officer, Shane works on projects that are largely international and center on sustainable rural development. He has shepherded several agricultural development initiatives forward, including one recent effort to help an eroding medicinal herb farm in the forests of Nepal. Over time, he has established several programs that train local farmers in sustainable methods of agriculture.
Though Earth Open Source's work is far reaching, Shane works primarily in Fairfield. "I spend most of my time developing programs, seeking funding, and managing them from the U.S.," he says.
Shane also works for The Global ID Group, also Fairfield based, a sister company of Earth Open Source. On a recent project, Shane helped to establish a certification program to verify that soy in Eastern Europe is free of GMOs, and which will ensure that growers use fair labor practices and are compliant with European law.
Shane couldn't be happier doing this kind of work, which uses both his legal skills and his passion for sustainability and social justice. "I couldn't have scripted a more perfect job for my interests," he says.
In his spare time, Shane enjoys exotic vacations (such as a recent trip to Bali and South Korea), beach volleyball, hiking, basketball, and watching his brother's touring band perform.
© Copyright 2015 Maharishi Unversity of Management