Jason and the MUM Water Club conducted an assessment of Crow Creek, which runs through Maharishi University of Management and Fairfield, Iowa, and are helping the city to plan for storm water overflows and improve water quality.
(The Crow Creek Stone Arch Bridge is pictured above.)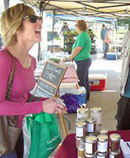 Jason's coconut butter-based products, called Blissful Earth Creations, are sold at a local farmer's market and at several stores in town.
MUM student is a sustainable entrepreneur
by Maharishi University of Management, Fairfield, Iowa, USA, Achievements
August 2014
Long Island native Jason Nelson studied business and philosophy in his home state for a few years but found his education uninspiring. While researching meditation on the Internet, he discovered a university that taught meditation and served organic vegetarian meals. Feeling drawn to Maharishi University of Management's (MUM) more enlightened approach to education, Jason moved to Fairfield, Iowa.
After taking a course in permaculture, Jason found a discipline worthy of pursuit: Sustainable Living. "I found that in Sustainable Living many of the abstract principles of Maharishi Vedic Science existed both in thought and in action," he said. "As an example, the principle that harmony exists in diversity is profoundly evident in nature."
One of Jason's main activities has been to assist the city of Fairfield by doing a visual assessment of Crow Creek, which runs through campus and the town. Jason took a class on sustainable water resource management and became so enthusiastic about the subject that he started the MUM Water Club. He and fellow club members spent spring break collecting data on storm water drains and Crow Creek itself, taking note of the various indicators such as erosion, sedimentation, trash, and gullies. Jason is now compiling the information as part of his senior project to help the city's plan for dealing with storm water overflows and improving water quality.
Jason credits the Sustainable Living faculty for his eagerness to participate. "The Sustainable Living faculty is just so passionate about the possibilities and responsibilities that we as students have," said Jason. "They challenge us to use our abilities and change the future for the better."
Jason is also interested in being an entrepreneur. He started an artisanal food business with Sustainable Living alumna Jessica Smith called Blissful Earth Creations. Jessica's creativity and Jason's business knowledge and sales experience have already gotten the duo's coconut butter-based products to the Fairfield Farmers Market and several stores in town.
© Copyright 2014 Maharishi University of Management