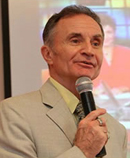 MUM alumnus and adjunct faculty Jim Bagnola says, "My job on the surface is developing leaders. Underneath, it is getting people to practice the Transcendental Meditation program and develop their full capacity."
Training leaders around the world
by Maharishi University of Management, Fairfield, Iowa, USA, Achievements
May 2013
MUM graduate Jim Bagnola is a corporate educator, international speaker, and executive coach. His book, Becoming a Professional Human Being: How to Enjoy Stress-Free Work and Personal Happiness Using the Mind/Body/Work Connection, was released in 2012.
Mr. Bagnola earned his bachelor's degree in political science and his MA in psychology. In 2011, he completed the MA in Maharishi Vedic Science program at Maharishi University of Management. "I always wanted to go to MUM because of its primary focus on consciousness," said Mr. Bagnola. "I had just finished my book on the mind-body connection and I wanted to go deeper into this science of human development, and that's what Maharishi Vedic Science is. I also wanted to learn Sanskrit because of the research I saw on what it can do to the brain. The experience at MUM was exhilarating. The professors all stood out."
Mr. Bagnola's teaching approach combines real-world knowledge he gained during 25 years in the corporate world with mind-body awareness exercises developed to break through personal limitations.
His teaching philosophy is based on the idea that thoughts and emotions can directly influence physical health and well-being. His workshops employ many methods which give participants first-hand experience in learning ways to change harmful thinking patterns in order to improve health, happiness, and success.
Mr. Bagnola's client list reads like a directory of Fortune 500 corporations and top government agencies. He has worked with thousands of companies as diverse as Shell Oil, U.S. Department of State, Marriott Hotels, Motorola, Scotiabank, NASA, and the United Nations. He serves as an executive coach to many corporate executives and is a mentor for the World Bank's global entrepreneurship program.
Mr. Bagnola has been a teacher of the Transcendental Meditation technique since 1975 and has introduced many of his clients to the TM technique. "My job on the surface is developing leaders," he said. "Underneath, it is getting people to practice the Transcendental Meditation program and develop their full capacity."
In addition to his corporate work, Mr. Bagnola gives freely of his time to many social causes. He sits on the board of Directors of the Ohio based Olive Branch Foundation, is the Chairman of the Board for Leaders Romania, and is a frequent lecturer for AIESEC, an international educational foundation based in Rotterdam.
Mr. Bagnola has been a guest speaker in numerous classes at MUM and Maharishi School for years, and this May he is teaching his first MUM course on leadership.
© Copyright 2013, Maharishi University of Management