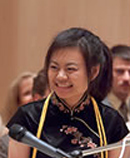 Yali Jiang from central China received the Outstanding Student Award in 2010 from Maharishi University of Management.
Serving students with love and compassion
by Maharishi University of Management, Fairfield, Iowa, USA, Achievements
March 2013
Yali Jiang, assistant director of Student Activities, comes from Hubei province in central China. She was studying at Maharishi University of Management's partner university, the Overseas Chinese College of the Capital University of Economics and Business in Beijing, when MUM offered her a scholarship based on her high grade point average. In search of a high quality education and encouraged by her father, she accepted right away.
Yali completed her BA in business administration in 2010, receiving the Outstanding Student Award. Then she continued with MUM's part-time MBA in sustainable business, while working as office manager in the Art Department.
"I like the concept of Consciousness-Based education," Yali said. "The first thing a school should teach you is how to be yourself. When I came here, MUM taught me how to follow my heart. I feel at home here and I can grow in every area, not just academically."
Since August 2011, Yali has been responsible for the budget and finances of Student Activities, where she also helps organize events. "My goal is to serve all students with love and without judgment," Yali said. In addition, she serves students by being resident director of four dorm buildings for ladies. Moreover, she enjoys sharing her love of dancing by performing at MUM events with a group of students.
"I have thoroughly enjoyed working with Yali for the past two years in the Student Life department," said Elaine Pomfrey, associate dean of students. "She expresses beautiful qualities of both mind and heart. She is very conscientious with high standards of excellence on the job, and she always supports others with compassion and love."
Always striving to educate herself, Yali is now working towards her Lean Accounting Certificate through MUM. As a dynamic and enthusiastic staff member, she was selected to participate in the Enlightened Leadership Program. This new MUM initiative aims to connect young aspiring leaders with current leaders of the University and the Transcendental Meditation organization in order to discuss Maharishi's knowledge related to leadership and to implement those principles for University growth.
© Copyright 2013 Maharishi University of Management