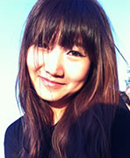 Undergraduate student Geonah Lee from Seoul, Korea, enjoys studying physiology and health, as well as different aspects of art—painting, graphic designing, dancing and singing—at Maharishi University of Management in Fairfield, Iowa, USA.
Student hopes to introduce Maharishi Ayurveda to South Korea
by Maharishi University of Management, Achievements
18 January 2013
Geonah Lee grew up in Seoul, South Korea, the child of the national directors of the Transcendental Meditation Program in South Korea, so she learned the TM technique as a young child and and the TM Sidhi program as a high school student.
Geonah has always been passionate about art, which led her to major in art in high school and enroll in one of Korea's top art universities. After her freshman year, however, she transferred to Maharishi University of Management (MUM) to study physiology and health.
"There are three reasons why I came to MUM," Geonah said. "First, I wanted to really be myself: strong, stable, and fulfilling the self, no matter where I am and who I am with. I thought this environment and the regular practice of Transcendental Meditation would help. The next reason was the diversity. I wanted to be friends with a lot of people from different countries. Maharishi Ayurveda was the third reason because it includes physical, mental, and spiritual health and real beauty, so I was really attracted to this knowledge."
After graduating from MUM, Geonah hopes to establish a Maharishi Ayurveda center in South Korea to include an Ayurvedic clinic, spa, meditation hall, organic restaurant, yoga studio, and hotel. Her goal is to create a holistic environment where people can learn to balance every aspect of their lives.
"Geonah is one of those students who just seems to be in the right place," said Paul Morehead, professor of health and physiology. "After taking English classes, she began our courses in the Maharishi Ayurveda Wellness Consultant track and she shone. Her work was thoughtful, penetrating, and demonstrated a deep understanding of the knowledge."
Geonah still enjoys doing art in the forms of painting and graphic design. She also likes to collaborate with fellow students and perform at MUM events—either modeling, singing, or dancing with the dance troupe she started with her friends. "It's also important to have fun in life," she said. "Since I like all different kinds of art, it is one of the ways to develop my consciousness."
© Copyright 2013 Maharishi University of Management, USA