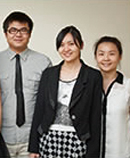 Menghao Sun, Lin Long and Qi Wang (all from China) were part of the winning MUM team.

Chuang Huan and Yiyang Su (both from China) were also part of the winning team.

Abhishek Kumar (India), Pradip Shrestha (Nepal) were in the MUM team that came in second.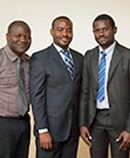 Charles Njoya (Cameroon), Fon Ngando (Cameroon) and Tenyah Kingsley Sikot (Cameroon) were also in the team that came in second.
Four MBA teams from MUM finish in top 10 at international business simulation
by Maharishi University of Management, Fairfield, Iowa, USA, Achievements
August 2013
Maharishi University of Management placed four MBA teams in the top 10 out of 103 teams in a recent online business decision-making contest run by the international Capsim Foundation Business Simulation.
This achievement marks the fourth consecutive year in which MUM's MBA accounting students have placed at least one team in the top 10. This year five teams competed from MUM, obtaining first, second, sixth, ninth, and 33rd places.
This year's top 10 included teams from University of Maryland, Villanova University, University of Texas at Dallas, University of Indianapolis, Drexel University, Monterrey Institute of Technology and Higher Education, Mexico, and Alfred Laurier University, Canada.
"We adopted the foundation simulation to gain third-party assessment of the value of MUM's MBA education," said Dr. Andrew Bargerstock, director of MBA programs. "Now, after four straight years of top 10 finishes, we are delighted to see a consistent pattern of results that suggests our students will be competitive in the global job market."
The Capsim Foundation Business Simulation is a continuous event available online, where participating teams are evaluated against all teams who have participated in the previous six months. The simulation provides an opportunity for students to practice teamwork behaviors such as collaboration, negotiation, and consensus-building. In addition, the groups begin to think and act both strategically and tactically like an executive management team in a dynamically changing environment with competitors.
Many of the students indicated their practice of the Transcendental Meditation technique contributed to their success. "Because we all practice the Transcendental Meditation technique, we were able to maintain very broad awareness throughout the simulation even when we had to focus sharply on individual decisions," said Qi Wang, member of the winning Baldwin team. "Also, we were able to engage in harmonious communications even when we were debating alternative decision possibilities. Our healthy team dynamics helped us to produce outstanding results.".
© Copyright 2013 Maharishi University of Management