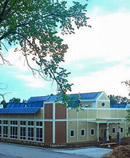 MUM's Sustainable Living Center received grants to help pay for their renewable energy systems, which includes wind turbines, solar panels, and a geothermal system.
Grants support use of renewable energy at MUM
by Maharishi University of Management, Fairfield, Iowa, USA, The Review
August 2013
Thanks to the American Recovery and Reinvestment Act of 2009, Maharishi University of Management (MUM) has recently received four grants totaling $105,000 to help pay for the renewable energy systems in the Sustainable Living Center.

"Basically, it's money that has already been spent," said Mark Stimson, MUM sustainability coordinator. "We knew that the funds would likely be available, so we went ahead and invested in the system that's now in place."

That system includes a 10 kilowatt wind turbine, 12 kilowatts of solar panels, solar thermal tubes for heating the building, and a geothermal system, all of which were covered by the grant. The result has been that the building creates more energy than it uses.

"It's worked out very well," Mr. Stimson said. "We had to tweak it last summer, but overall it's comfortable and it doesn't cost the University a lot of money for energy as with the other campus buildings."

The excess energy that the building's renewable energy system creates goes back into the campus grid and is used to help power other campus buildings.

Much of the work on the system was done by Troy Van Beek, a graduate of the Sustainable Living Program who started a company by the name of Ideal Energy after graduating. He installed the wind turbine, and the solar panels were installed by Brian Robbins, Mike Havelka, and Lonnie Gamble.

The grant applications were written by Mr. Stimson, Mr. Gamble, Tim Messenger, and David Todt.
© Copyright 2013 Maharishi University of Management