Daniel Zajic is happy that he went to Maharishi University of Management, because it gave him the tools to make successful decisions in life.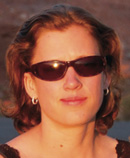 Sara Daley felt her education at Maharishi University of Management was excellent and also, importantly, she enjoyed high quality interactions with others and lasting friendships.
An education at Maharishi University of Management is invaluable and enjoyable
from the Maharishi University of Management alumni brochure, Perspectives from MUM Alumni
8 November 2012
Two alumni from Maharishi University of Management both expressed the joy they felt while receiving their "invaluable" education.
Sara Daley received a BA in Literature and an MA in Art from Maharishi University of Management (MUM) and now is a community volunteer in Portland, Oregon, USA. She says, "MUM was fun. It sounds trite, but it was such an important aspect of my time at the university. It was so joyful to be around such a diverse group of students and have such a good time! It was a particularly important experience for me to be so accepted and to find friends so quickly when I started at MUM.
"The quality of my education was excellent, but the high quality of my interactions and the happiness I experienced at MUM were perhaps more important than the 'book learning.' I am grateful I was able to have both top-notch classes and professors, but also an entire school of top-notch friendships (including my husband!) that I still have 10 years later."
Daniel Zajic received his BS and MS in Computer Science from MUM and now is a software application developer. He also enjoyed his MUM education: "My five years at MUM were very enjoyable. Learning and having fun with people from all over the world was a rare opportunity. More importantly, however, I gained the knowledge and tools that have helped me make successful decisions now that I am in the world on my own.
"I feel like I became an expert in choosing the right path on a small scale (decisions made each minute, each second), as opposed to a large scale (life decisions). Anyone who knows the secret to success knows that large scale is achieved one small detail at a time. I left MUM with the confidence that anything was possible, because I knew how to take small but powerful steps towards a goal.
"I can't imagine having gone to a school where the focus was solely on the knowledge specific to my field, without a corresponding emphasis on universal laws, and on improving the container for knowledge (i.e. myself!). It's like the difference between handing a poor person some money to buy some food, and giving them some land, seeds and the knowledge about how to grow their own food. The former is valuable, but the latter is invaluable.
"My education at MUM was invaluable. I think that's the standard by which a school should be measured."
© Copyright 2012 Maharishi University of Management