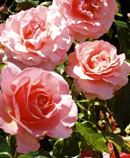 Transcendental Meditation fulfilled this young man's search for spiritual experience and continues to benefit him in his busy life as a partner in a small engineering company that specialises in energy management systems
Life in fulfilment
by UK Transcendental Meditation News, October 2012, Volume 19, #2
5 November 2012
"If I had to describe the benefits I've gained from practising Transcendental Meditation, I would have to use words like contentment, fulfilment and great satisfaction," says Newton Parker, who lives near Maidstone in Kent. He learnt to meditate in 2007 and says with certainty that it has proved to be the answer to all of his life's searching.
With hindsight, Newton says that he had always been a 'seeker' in search of a deeper reality of life. Even as a young child of five or six years old, he was aware of the inner value of consciousness, or being. He remembers talking of his experience to his mother who explained it in terms of her personal understanding of soul and spirit.
He recalls that as he grew up, his interest in self-development continued and deepened: "As a young man I was drawn to musicians, authors and others who seemed to have a deeper understanding of life. I often felt they knew something that I didn't and I was desperate to find out exactly what it was! I spent years reading numerous esoteric works, attending various classes and meeting some wonderful individuals, one of whom introduced me to meditation—although not Transcendental Meditation. I read various commentaries on the Yoga Sutras of Patanjali and the Bhagavad-Gita but found them abstract and difficult to penetrate.
I had an unread copy of Maharishi's translation and commentary on the Bhagavad-Gita sitting on my book shelf, and when I finally got around to opening it I was amazed at its beautiful simplicity. I felt that Maharishi's level of understanding was absolutely complete as the subject matter was explained so effortlessly. So, before I'd even completed chapter three, I'd found my local Transcendental Meditation Teacher, Bernard Bence, and booked an introductory talk.
"Within my first few days of practising Transcendental Meditation, I felt I could at last experience that sense of being which I had noticed as a child. The experience was one of complete satisfaction, total fulfilment and, dare I say, immense relief!"
That was five years ago. Since then, Newton has noticed that the benefits have spilled over into many different areas of his life, including his work as a partner in a small engineering company that specialises in energy management systems.

He explains, "As my practice progressed I felt that my perspective on life shifted as a result of each meditation. I became untroubled by my busy job and noticed how much easier life became. I could achieve so much more during activity with what seemed like very little effort. My health improved, my weight decreased, I slept soundly and I felt very, very content."|

Impressed with the benefits of meditating for just 20 minutes twice a day, Newton went on to take advanced courses, including the Transcendental Meditation Sidhi course. He says: "The benefits are now almost taken for granted as life runs by without a hitch. I generally feel as if I'm just watching my daily activity, and there feels no need to get caught up in the stresses and strains that many others seem to endure. I feel anchored to a soft, stable and comfortable spot from where I can observe the world around me and smile."


© Copyright 2012 Global Good News and Transcendental Meditation News