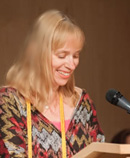 Elyse Hamilton-Soares's teachers admired her desire for perfection and gave her the Outstanding Student Award from the Literature Department at Maharishi University of Management.
Outstanding student desires for perfection
by Maharishi University of Management, Fairfield, Iowa, USA, Achievements
6 July 2012
Elyse Hamilton-Soares grew up in New Jersey and lived in North Carolina and Virginia before she and her husband came to Maharishi University of Management (MUM). Elyse had friends who graduated from MUM, and after her husband, Andy, attended an MUM Visitors Weekend, they decided to move to Fairfield, Iowa, with their two children.

"I wasn't sure what I was going to study, then I heard Nynke Passi talk about the literature program." Elyse said. "I got really into the writing part of it and my creativity expanded."

Elyse was one of the four undergraduate students in 2012 who graduated with a double major. She earned a BA in education and a BA in literature with an emphasis in writing. In addition, she received the Outstanding Student Award from the Literature Department.

"One quality of Elyse's stands above all the rest: her desire for perfection," said Terry Fairchild, chair of the Literature Department. "In the quality of her conception, the care for her subject, and her willingness to revise, Elyse produced publishable quality writing."

Her inspiration to become a teacher came from her mother, who was a teacher, and from her experience of being a teaching assistant in one of the composition classes. This fall, she will begin MUM's graduate program in educational innovation, focusing on elementary education.

Elyse learned the Transcendental Meditation technique years ago, but being at MUM made her regular in her practice. "It made me see what was within me and how I learn," she said. "What I am learning most is about myself in the end. All the other knowledge I learn is just the icing on the cake."

Elyse and Andy found it challenging to attend school while raising children, but they found support from other student parents. "I think this was the best place to do this," she said.

"The love here is palpable, and the professors have been so wonderful and supportive," Elyse said. Her children attend Maharishi School and she hopes to teach there after completing her MA in education.
© Copyright 2012 Maharishi University of Management