The Chester team, with members from Nepal, Cambodia, Mongolia, and China, placed 3rd in the competition in the CAPSIM Business Simulation.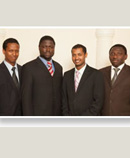 The Digby team, with members from Ethiopia, Cameroon, and the Ivory Coast, placed 5th.

The Baldwin team, with all group members from China, placed 7th.

The Andrews team, with group members from Philippines, USA, China,and Egypt, came in 10th.
MUM MBA student teams sparkle in international business simulation
by Maharishi University of Management, Fairfield, Iowa, USA, Achievements
8 August 2012
Four MBA teams from Maharishi University of Management finished in the top 10 out of 97 MBA teams who participated in the international CAPSIM Foundation Business Simulation during the six-month period ending July 1, 2012.

This performance marks the third consecutive year in which MUM's MBA Accounting students have placed at least one team in the top 10. Other MBA participants in this year's top 10 included teams from Villanova University, University of Texas – Dallas, Drexel University, and Alfred Laurier University, Canada.

"All four groups of MBA students were keenly interested in participating at a high level," said Dr. Andrew Bargerstock, director of MBA programs at MUM.
"Due to a generous gift from Abdul Sheikh, a member of last year's winning team from MUM, a $500 prize has been established for the next group of MBAs from MUM who place first in the CAPSIM Foundation Simulation. This prize added another level of excitement to the competition. This year, we had groups placing third, fifth, seventh, and tenth out of 97 competing teams that completed all eight rounds. We are very proud of their achievements."

The CAPSIM Foundation Simulation is a continuous event available online, where participating teams are evaluated against all teams who have participated in the previous six months. The simulation is a popular event among students in the MBA Accounting classes offered by Dr. Bargerstock.
The students appreciate the opportunity to exercise their skills in executive decision-making and small group dynamics. Both strong analytical skills and informed intuition are valuable for integrated decision-making.

"The CAPSIM Business Simulation provided real-time practice of all management principles and philosophies we have learned in class so far," said student Laxman Bhandari. "It has broadened my vision about how to manage a company in this competitive market. I also got insight about integration and contribution of different resources towards the common goal of a company."
© Copyright 2012, Maharishi University of Management