Dr. Richard Beall, Principal of Maharishi School, Fairfield, Iowa, USA, is honored to represent Maharishi School and its remarkable students, teachers, and families, and looks forward to an era of expansion and renewed commitment to "200% Sparkle" in every person and program.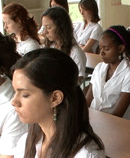 Schools across the country and around the world are investing in the high quality of rest that pays dividends the rest of the day—through their practice of the Transcendental Meditation technique.
Maharishi School magic
by Dr. Richard Beall, Principal of Maharishi School of the Age of Enlightenment, at Enlightenment, The Transcendental Meditation Magazine
7 September 2011
It's May 26th and I'm six miles high, flying across the Midwest to Knoxville, Tennessee, to join 14,000 of the world's most creative and inventive kids at Destination ImagiNation's (DI)* 2011 Global Finals. Five Maharishi School state champion teams are representing Iowa at this international creative problem-solving competition.

The teams have been working for months on complex challenges, devising solutions that are part engineering, part entertainment, and part youthful exuberance. I was advised to bring earplugs for the raucous closing ceremony—a joyful event because Maharishi School has been a winner more times than almost any school in the world.
In 2005 we had two world champs and almost as many top ten finishes (five) as the entire state of California (six). This year an 8th grade girls' team is combining cosmology (the life cycle of stars) with cosmetics (cleverly casting themselves as "stars") and scenery that teaches and transforms.
Our high school boys' team took the same challenge, mixing song and break-dancing with slapstick humor, tongue-twisting physics, and electronic wizardry. The 9th grade girls' team tells the story of their community service project of creating a holiday production for a local nursing home. They describe the experience with a mock TV news broadcast and original song, dance, and poetry that bring tears to the eyes.
We're a small school. We have an open admissions policy. Our DI teams aren't handpicked from select Talented and Gifted classes (as many other schools' are). So what's our secret? It lies in the daily routine of our students.
A Day in the Self-Referral Life
Students begin arriving at school at 8:15 am. They come on foot, by bike, or car, or are dropped off by parents. But they don't go directly to class.
Instead, they climb three flights of stairs to an open, light-filled meditation room where they begin their morning program: a few minutes of rest; some yoga asanas (postures) to loosen up surface stress and enhance strength, flexibility, and balance; pranayama, a simple breathing exercise that settles the mind and body; and then, most importantly, their practice of the Transcendental Meditation technique.
Immediately the air settles in the room and a palpable silence fills the space. Not just the absence of sound, but a feeling of fullness and lively alertness. Sitting with them, you too feel drawn inward. After their morning Transcendental Meditation program, the students who walk into their classrooms are not the same ones who walked into the building 45 minutes earlier. Their physiology has changed. They've systematically prepared their mind and body for study. Their teachers had better be prepared, because these kids are awake and ready to learn.
The Birthplace of Consciousness-Based Education (CBE)

Thirty years ago, when Maharishi School pioneered this innovative Consciousness-Based approach to learning, it was the only high school in the world where students and teachers took time to transcend as preparation for optimal learning. Now schools across the country and around the world are investing in this quality of rest that pays dividends the rest of the day—through their practice of the Transcendental Meditation technique.
Recently I met with representatives of Maharishi Vidya Mandir Schools in India, a consortium of 151 schools with over 100,000 students practicing the TM program. In March our seniors visited a school in Italy where students were enjoying the same advantage, practicing the same simple but powerful program. Our seniors have also visited CBE schools in Brazil, Thailand, and Canada. There are a dozen public schools in the U.S. that offer "Quiet Time" programs with Transcendental Meditation for students and teachers.
They all know the secret.
200% of Life
A mathematician might take exception, but nothing better summarizes what I see on a daily basis with Consciousness-Based Education at Maharishi School than the phrase, "200% of life."
Our students tackle a college preparatory curriculum that has earned them a host of academic honors and admission into top universities nationwide. That's the outer 100%, where we strive for high achievement in every external field of life—but it's only half the story.

Our kids have a bonus. No other school in America has the complement of programs we offer for 100% inner development. No other school provides the "verticality" of thinking that becomes so familiar to our students who twice a day dive deep into the subtler, more creative levels of their own consciousness. They are not just filling their minds with information, as if they were empty vessels. They are expanding and exploring their consciousness, and the results are deeper ideas—what iconic movie director David Lynch calls "Catching the Big Fish." And this depth of thinking doesn't just affect academics and creative undertakings; it establishes a foundation for deeper relationships with peers, teachers, family, and society as well.
That's our 200% of school life: high scores, lofty accomplishments, close and harmonious relationships, and uncommon insight into the unlimited potential of human consciousness. That's the magic that comes from taking time to transcend, to tend to the neurophysiological basis of learning.
And that's why I can't wait to see what comes next—at Global Finals and in our global meditating family.

Postscript
The results are in: Our high school boys finished 4th and the middle school girls finished 5th, making us one of the few schools in the world with two top 5 finishes.
More Magic
In 2010, Maharishi School won state championships in five different areas: Destination ImagiNation, Robotics, Science, Poetry, and Drama.
Our boys' tennis team has more Final Four state appearances than any other school. And our students consistently score in the top percentiles in national standardized tests.
Footnotes:
* Destination ImagiNation (DI) is an educational program in which student teams solve open-ended challenges and present their solutions in tournaments. This fosters creativity, teamwork, and problem solving skills so important in the 21st century workplace. More than 100,000 students compete in DI in the United States and in more than 30 countries, culminating in the annual Global Finals, a remarkable display of imagination and unique solutions. DI has more than 1.3 million alumni and an international network of 35,000 volunteers.
© Copyright 2011 Maharishi Foundation USA, a non-profit educational organization