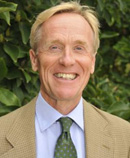 The Maharishi School tennis coach, Lawrence Eyre, will be featured in instructional videos that will be marketed worldwide.
Maharishi School's tennis coach featured in instructional videos
by Maharishi University of Management, Fairfield, Iowa, USA, The Review
10 October 2011
The world's leading producer of instructional sports videos is now offering "High School Coaching Academy," a five-DVD set featuring Lawrence Eyre, Maharishi School's award-winning tennis coach.

The videos cover three facets: 1) conditioning and quickness training, 2) practice sessions, and 3) coaching during match play.

Mr. Eyre, whose players have won 16 Iowa 1-A state titles, was selected as National High School Coach of the Year for 2009 by the United States Professional Tennis Association.

Mr. Eyre was chosen to be featured in the videos because of his insight into the game, says Darryl Bennett, vice president of Championship Productions.

"I began talking with Lawrence for insights on tennis, on new product ideas, and tennis coaching insights," Mr. Bennett said. "Every time we would speak I'd say, 'We have to get him on film.' His team, despite being the smallest school in the state with a tennis team, has, incredibly, played for the state team championship in 11 of the last 24 years."

Mr. Eyre's approach to coaching is unique in a number of respects, especially his players' practice of the Transcendental Meditation technique. The videos highlight other distinctive features, such as his techniques for coming to a relaxed state between points and his emphasis on always making consistency the highest priority.

"I'd like to think my videos contribute to a more rounded picture of what tennis actually is—I hope they will be of value to both coaches and players," Mr. Eyre said.

The videos show actual practice sessions with his players. And in a first for Championship Productions, the videos show Mr. Eyre coaching during interscholastic match play so other coaches can see how he guides them toward competing at the top of their game.

The DVD set joins those of other top tennis teachers on the Championship Productions website, such as former French Open doubles champion Luke Jensen, and Peter Smith, head tennis coach at the University of Southern California.

© Copyright 2011 Maharishi University of Management