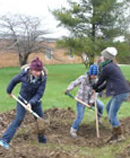 A group of students planted fruit trees on campus during the very successful 11th Annual EcoFair at Maharishi University of Management.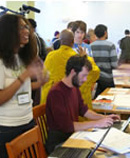 The Green Job and Internship Fair allowed employers in the area of sustainability to connect with students for employment and internships.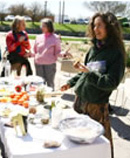 Visitors enjoyed a local food workshop.

Jens Butler demonstrated blacksmithing during a workshop on that topic.
MUM EcoFair Celebrates Sustainability
by Maharishi University of Management, Fairfield, Iowa, USA, Achievements
2 May 2011

The 11th Annual MUM EcoFair held on the weekend of April 15th, celebrated the successes and strategies that are making the world a greener place. The student-organized event, "Energize Metamorphosis to Sustainability," included visiting speakers, workshops, vendors, and the EcoJam fashion show.
New this year was the Green Job and Internship Fair, allowing employers in the area of sustainability to connect with students for employment and internships.

The event opened with keynote speaker Julie Woods, social entrepreneur, corporate trainer, and executive director of Fun Money Good: FMG Magazine for a Global Tribe.

Her interactive keynote speech "Bridges Not Battles: Sustainability Success in a World That Doesn't Know It Cares. . . YET!" targeted nuts-and-bolts paradigms, tools, and techniques for furthering the reach of sustainability initiatives.

Featured speeches included "Growing Green Jobs in a Green Economy" by Kevin Doyle, author of three books about environmental careers. In addition, Richard Kahn, core education faculty at Antioch University, Los Angeles, gave a talk titled "Ecopedagogy: Memory, Mind, Movement, Metamorphosis."

"It was a really great time," said Dr. Kahn. "I wish I had more time to talk to everyone and learn more about the curriculum. MUM couldn't have been a better host and I will only have good things to report in my various travels."

Local speakers included Kim Strubell of Caritas Seeds, who spoke on "Sustainable Agriculture in Africa," and Stuart Valentine, co-chair of the Sustainable Living Coalition, who led a panel discussion on green capital.

MUM alumnus Robbie Gongwer showed his short documentary, titled "Sustain Angoon," about the introduction of sustainable energy technologies by MUM students, alumni, and faculty in a remote village in Alaska. In addition, several Maharishi School students presented their award-winning science fair projects in the area of sustainability.

The EcoFair also offered a large number of workshops on topics such as tree planting, permaculture gardens, biodynamic farming, edible landscapes, blacksmithing, and controlling electrical pollution.

"EcoFair this year was a great success," said organizer Emanuel Schachinger. "We had the best turnout in the 11-year history of the event."

MUM has been a leader in sustainability education with its rapidly growing undergraduate program in Sustainable Living.
© Copyright 2011 Maharishi University of Management