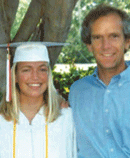 Dr. Paul Mills, who received his Ph.D. at Maharishi University of Management, is a university professor, author of over 180 publications, and a warm-hearted humanitarian and family man.
Maharishi University of Management alumni success—Dr. Paul Mills
by Maharishi University of Management, Fairfield, Iowa, USA, Alumni Brochure and The Review
18 June 2011
Paul Mills, professor of psychiatry at the University of California San Diego who received a B.S. and Ph.D. from Maharishi University of Management, was elected the president of the American Psychosomatic Society for 2011.

Faculty member Ken Walton, who recently presented at the annual meeting of this society, had the opportunity to see Dr. Mills deliver the presidential address that opened the conference.

"Dr. Mills's address on the history of the society was one of the best opening addresses I have heard," Dr. Walton said. "He was remarkably composed, relating to the audience of hundreds as if to a small group of friends. His talk ranged from the humorous to the somber and left everyone inspired."
In 1990 Dr. Mills received a five-year grant for young investigators from the National Institutes of Health, ranking Paul's proposed research in the top 1% of the country. He was selected for the "Early Career Award" by the American Psychosomatic Society, one of the country's most prestigious activities.
After his B.S. in psychobiology, Dr. Mills was about to start a Ph.D. at the University of Minnesota. Then he was invited to return to Maharishi University of Management for the doctoral program in neuroscience. Now Paul publishes scientific papers and abstracts, in journals such as Sleep; Journal of Applied Physiology; Hypertension, Brain, Behavior and Immunity; and Psychosomatic Medicine. He conducts research on the interrelationships among the sympathetic nervous system, the cardiovascular system and the immune system. He teaches graduate students in physiology, psychology, and behavioral medicine. Also, he has edited a special issue of the journal Annals of Behavioral Medicine on the topic of Spirituality, Religiousness and Health.
Dr. Mills is not a man with an eye only for the microscope. He spends as much time as he can with his wife and daughter, surfs regularly at Sunset Cliffs, and volunteers at the San Diego Hospice. "I love this work," says Paul. "It has immediate results. I walk with the patients, talk, read to them, or just sit and hold their hand."
Says Dr. Mills of his education: "It gave me a way to dis- solve fatigue and have more staying power in my career. The University also helped me establish an expanded context—a spiritual framework, we could say—to all my work. I enjoy talking to students about the nature of life, almost as much as about their research."
Paul Mills is a man of gifted intellect, who tirelessly pursues his research and writing, a man of expanded heart who seeks to interact with all people in his life with his full attention and with unbounded compassion.

© Copyright 2011 Maharishi University of Management