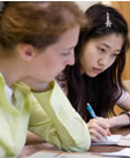 MUM's good reputation continues to attract many students, who really appreciate the friendliness of the students and faculty and the unique style of education. The MUM degree is fully accepted in China.
MUM partners with additional Chinese universities
by Maharishi University of Management, Fairfield, Iowa, USA, The Review
15 February 2011
Maharishi University of Management (MUM) is now collaborating with three universities in China in addition to the ongoing partnership with the Overseas Chinese College of the Capital University of Economics and Business (CUEB) in Beijing, a state-owned university.

Officials from MUM, including President Dr. Bevan Morris and Zhu Yunxiang, vice president of Asia expansion, recently traveled in China and signed agreements with Beijing Language and Culture University in Beijing, Qiongzhou University on Hainan Island in southern China, and Beihua University in northeastern China.

Students from these universities may arrive to study at MUM yet this semester, with their interests ranging from the MBA program to the undergraduate program in literature.

Some of the students may begin with a semester of English instruction, and additional faculty are being added to the Department of English as a Second Language.

In addition to students coming here, an MUM degree program may be offered at the partner institution in China, as has been the case at Overseas Chinese College the past 10 years. Tentative plans include training faculty at those institutions to offer Consciousness-Based Education, with some faculty tentatively scheduled to come to MUM this semester for faculty development workshops.

"President Morris's visit to China did much to help pave the way for these collaborations," Dr. Zhu said.

© Copyright 2011 Maharishi University of Management