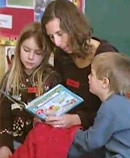 At the Maharishi School in Victoria, British Columbia, Canada, students practise Transcendental Meditation, yoga exercises, and receive ample of attention from the teachers while learning the same cirriculum as taught in public schools.
Meditation prepares students for learning at Maharishi School in Victoria, British Columbia
by Global Good News staff writer
7 April 2011
At the Maharishi School in Victoria, British Columbia, Canada, students begin the day with the practise of the Transcendental Meditation Technique for children, a walking meditation. 'The children are able to settle, focus, be centred,' said a teacher. 'They're ready to learn.'
Hilary Hallman, reporter for The Daily news television show, visited this unique school which offers Consciousness-Based Education for Kindergarten through Grade 5 (see video).
The foundation of Consciousness-Based Education is the Transcendental Meditation Technique—or TM—which is a non-religious form of meditation. Teachers say it prepares the students for learning. Scientific research shows that learning ability, behaviour, and academic performance improve with the practice of TM.
A young boy explained the process. Holding a capped jar of what appeared to be water mixed with sand, he shook it to demonstrate an active mind. 'When you do meditation, it slowly calms down,' he said as the sand settled to the bottom. 'And then you're calm.'
In addition to meditation, the children practise yoga exercises. Students also learn Sanskrit, one of the most ancient languages in the world. Teachers claim the sounds are calming to the children, and the phrases have positive messages.
Approximately two dozen students currently attend the school. Because of the small class size, 'Teachers can work individually with each student, encouraging their strengths and helping to overcome learning or behaviour challenges, making this school an attractive choice for some parents,' reported Ms Hallman.
'When we moved [our daughter] here, we found that it was so loving and so attentive . . . that she could just relax and suddenly bring out the gifts of being a kid,' commented a satisfied mother.
A little girl added a practical point, 'You have a chance to make lots of close friends.'
As a Group 1 independent school, the teachers are certified by the British Columbia Ministry of Education and follow the same curriculum as public schools.
After Grade 5 many of the students go to public schools. Teachers at the Maharishi School say the feedback is positive, that the children are well-prepared.

© Copyright 2011 Global Good News®