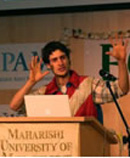 Michael Cook finds that his experience of MUM's vibrant community and Consciousness-Based Education provided him with a strong foundation in community building.
Transforming places to strengthen communities
by Maharishi University of Management, Iowa, USA, Achievements
5 October 2010
Michael Cook is a 2008 graduate of Maharishi University of Management with a BS in Sustainable Living who currently lives in Portland, Oregon, volunteering for City Repair, an organization dedicated to educating and inspiring communities to transform their neighborhoods.
Over the past two years, Michael has gradually become involved with all of City Repair's projects including the T-Horse, a mobile teahouse moving around the city, and "placemaking," a creative transformation of public places through natural building, art, and permaculture. Projects include painting intersections as well as building shelters, gardens, and benches.
Through his volunteering, Michael has found employment in natural building as well as public speaking at universities and city planning meetings. He encourages city planners to empower community members to build structures they want and provide them with support.
Michael also spoke at this year's EcoFair at MUM and he credits his involvement with Destination Imagination, a team-based problem solving competition at Maharishi School, for his speaking and presentation skills. Michael also finds that the experience of MUM's vibrant community and sharing the knowledge and principles of Consciousness-Based Education with others provide him with a strong foundation in community building.
"It's very satisfying to be engaging the principles of Maharishi Vedic Science, expressing those values in this new setting," Michael says. "We are looking at the word 'community' in a different sense. It's not just a group of people, it's a profound experience that's shared by all that is joyful, blissful, and sustainable."
This year Michael served as one of the coordinators for the annual Village Building Convergence, a ten-day event where communities and volunteers meet to improve their neighborhoods. During the event, Michael also led a group of MUM Sustainable Living students through an internship course in community "placemaking." Michael hopes to create more collaborative projects with MUM and bring "placemaking" to the campus.

© Copyright 2010, Maharishi University of Management