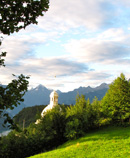 With the practise of the Transcendental Meditation Technique, strength, creativity, and confidence grow, and many new possibilities in life naturally open up.
How to choose a career: Expanding your options to the 'field of all possibilities'
by Global Good News staff writer
27 October 2010
My own student years awakened me to feel that life was really a field of all possibilities. The feeling started with my mother's belief that I could do anything and her approach to education. But it really took off to unexpected heights when I learnt, and later became a teacher of, Maharishi's Transcendental Meditation Programme.

My mother's perhaps old-fashioned angle on schooling was to get a good, solid liberal arts education. Be strong in basic skills, and you can learn how to do many different jobs. Know how to think clearly, logically, and creatively, speak well, write well, and doors will naturally open.

It worked. Being well grounded in the 'basics' has allowed me to enjoy many different avenues of expression.

But I've learnt that there is something more basic than the 'basics,' and a field of all possibilities that goes way beyond a job search. This field is deep inside of everyone, beyond speech, beyond thought. It's an ocean of energy, creativity, and happiness. And when you dive into it regularly, you come out dynamic, yet silent inside; able to focus and yet unbounded in your thinking. You feel confident and know that the boundaries and limitations you thought existed in your life are not really there. You can go beyond them.

This is not only my experience as a result of my practice of Maharishi's Transcendental Meditation Technique, but my experience as a teacher of the Transcendental Meditation Programme. Once I was meditating, people wanted to hire me even when I wasn't looking for a job. And I saw 'all possibilities' blossom in the lives of those I've been fortunate enough to teach.

Two people, whom I taught when they were in their late teens or early twenties, come to mind. The young man had always thought that he would be a policeman. But by the end of his few days of instruction in Maharishi's Transcendental Meditation Programme, he told me that he no longer felt that this was what he had to do, or that it was all that he could do.

The young woman, from Argentina, felt the same way. Through the expansion of awareness that the Transcendental Meditation Technique brought in just a few days, she felt the strength and confidence that many options were open to her.

What a great gift and sense of freedom to feel that you're not confined to some narrow path. When Maharishi calls the state of Transcendental Consciousness experienced during the Transcendental Meditation Technique a field of all possibilities, he really means all possibilities.

What better way to prepare for and enjoy life than expanding yourself to that ocean of fulfilment within!

© Copyright 2010 Global Good News®