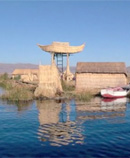 Lake Titicaca has some 41 floating reed islands that the Uros people have lived on and maintained for thousands of years.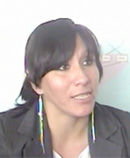 School director, Luz Elvira, says that it is marvellous that the students are practising the Transcendental Meditation Programme, because they have gained so many benefits from it.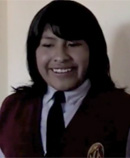 The children report better grades and better relations with their families after practising the Transcendental Meditation Technique.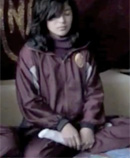 The students are radiating peace and harmony to their nation as a side effect of their practise of Maharishi's technologies of consciousness.
Rising invincibility from the shores of Lake Titicaca
by Global Good News staff writer
21 October 2010

High in the mountains of Peru in Puno, a small city on the shores of Lake Titicaca, 1500 students in six schools come together each day to practise the Transcendental Meditation and Transcendental Meditation Sidhi Programme of Maharishi Mahesh Yogi—unfolding their full potential as individuals and creating invincibility for their nation.

A video showing slides of Lake Titicaca, the students and teachers participating in the project, explains the implementation of Consciousness-Based Education in these schools. Father Francisco Qquenta said that he immediately accepted that everyone in his institution learn Transcendental Meditation. He states that this technique can be learnt by a person of any religious conviction.

'I believe the only thing one has to look for is knowing how to integrate ourselves well—who we are, what we are good for and how we must develop our own intelligence,' he said.

Students report feeling more tranquility. One student said, 'More tranquility; it's a tranquility, more relaxed. Now I don't have pressures, I don't have stress.'

Students from one of the schools are shown blissfully practising Transcendental Meditation. 'It's very beautiful,' one young boy reports. 'You feel relaxed. You feel less overwhelmed. Your problems go away.'

Another girl says that she has changed a lot in her character—'because I could not control myself. I used to yell a lot and deny things.'

Ms Luz Elvira, a school director, said, 'This was something marvellous, truthfully. When we personally received it for the first time, it was like a change in your life, as if you had been reborn. The first time, that was the first experience that I had.

'And the children, the same thing. It was a marvellous experience for them. Even they started to do better in tests; they changed their conduct, their way of being as persons, as human beings. You could see the difference out here with these kids.'

One young boy said, 'You should practise this because it is something where we will help ourselves.'

Another student reports that his grades have gone up, and he gets along better with his family.

The video presentation ends with photographs of young boys practising Transcendental Meditation on the banks of Lake Titicaca, and other students practising Yogic Flying in the school facility.

Lake Titicaca has the world's highest elevation for a commercially navigable lake. In their city near the sky, children bring peace through their practice of Yogic Flying with their cosmic hops of bliss. The children of Puno are bringing invincibility to Peru.

© Copyright 2010 Global Good News®