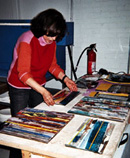 Regular Transcendental Meditation practice allows your mind to become familiar with deeper levels of consciousness that are the fountainhead of creativity, and your awareness gains more access to those subtle regions of the mind from where you can draw upon fresh ideas.
Award-winning artist expands creativity with Transcendental Meditation
by Global Good News staff writer
19 November 2010
Award-winning artist Mindy Weisel describes the benefits she has found from practising the Transcendental Meditation Programme. In an interview posted on the TM.org website, she explains that she is doing things creatively that she never would have imagined before.
Ms Weisel is a painter and usually works with paint. Two years ago she visited a glass studio where she felt a moment of recognition, and then started working with glass. She has now had major exhibitions of glass in both the United States and Europe.
'I would like to have meditated all these years,' Ms Weisel said in the interview, 'but I never realized it was something that you can be taught.'
Every year she visited a health spa; and every year, when time for meditation was offered, she would try to meditate. However, she explained, she didn't know what to do with herself, so she would leave.
'You can learn to meditate,' she said, referring to the standard course of instruction through which Transcendental Meditation is taught all over the world.
'You close your eyes and you have this deep, profound, meaningful rest, and it is beautiful, easy, simple. 'You are in a state of being, and to have this gift of being in the moment, and then somehow that lasts—and it accumulates.'
Speaking about her artistic work, she said that she is also 'more present in the creative process, in the work itself.
'Work doesn't have to be so hard. Work can come from a place of flowing, of openness, of responsiveness, of hearing, listening—just being more aware. You don't have to fight so hard to get to that work.'
Ms Weisel's work hangs in museums and institutions around the world, including the Smithsonian, Hirshhorn Museum, National Museum of American Art, Israel Museum , US Capitol, and the Baltimore Museum of Art.
© Copyright 2010 Global Good News®