Joshua Paling said that the greatest gift from his education at Maharishi University of Management is 'the gift of self-sufficiency and the development of our own consciousness.'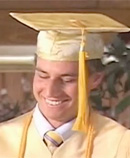 Josh Paling from Australia fell in love with everything about Fairfield, Iowa, at first sight.
Maharishi University of Management 2010 Valedictorian, Josh Paling
by Global Good News staff writer
27 December 2010
At the Commencement Ceremonies at Maharishi University of Management (MUM) in June 2010, Joshua Paling, Valedictorian, said that he doesn't normally believe in breaking promises—but in coming to MUM he had to make an exception.

He explained that when he first left high school, he enrolled in a university at home in Australia, which he really liked—for about three days. After that, the boredom of sitting in a class of hundreds of other students, with an anonymous teacher droning on down at the front started to get to him. 'By the end of my first week I was already threatening to drop out,' he said.

He lasted two years at university at which point he left, making a solemn promise to himself that he was done with education for the rest of his life.

About two years later he took a trip to Fairfield, Iowa, USA. His plan was to take a break from work and spend a few months practising the Transcendental Meditation and Transcendental Meditation Sidhi Programme in the Golden Dome of Pure Knowledge, the purpose-built facility for large group practice of this programme.

Within a week of being at Maharishi University of Management, Josh had already booked a ticket back to Australia. A few weeks after that he was back in Fairfield with a four year student visa, 'ready to break the promise I had made to myself two years earlier.

'Coming to Fairfield was the closest experience I've had to "love at first sight,"' Josh said at the Commencement Ceremonies. 'I loved everything about Fairfield. I loved the Dome; I loved the Sthapatya Veda buildings; I loved the vegetarian restaurants—but most of all I loved the people.'

What he loved most about the people in Fairfield is that everything that made him seem odd to the rest of the world made him normal at Maharishi University of Management—meditation, spirituality, being vegetarian, being interested in natural health. 'It was all just part of life here in Fairfield,' he said. 'The people here loved it all.'

As a result, the friendships he formed at Maharishi University of Management are stronger and more heart-felt than any others he has ever had in his life. 'Coming to MUM, it seems that the students here shared a bond that I'd never seen before,' he said. 'Everyone knew everyone and everyone was friends. I'm slightly embarrassed to admit it, but being at MUM is the only time I've ever been excited on a Sunday afternoon because Monday morning is just around the corner!'

'What I feel is so great about graduating from Maharishi University of Management in particular is that although our Consciousness-Based Education may have started here three years ago, it doesn't end when we walk across the stage today. The greatest gift we have been given here isn't the intellectual knowledge of our courses. It's the techniques that we'll use for the rest of our lives.

'It's the gift of self-sufficiency and the development of our own consciousness.'

Maharishi University of Management (MUM) offers undergraduate and graduate degree programmes in the arts, sciences, business, and humanities. The University is accredited through the doctoral level by the Higher Learning Commission.

Founded in 1971 by Maharishi Mahesh Yogi, the University features Consciousness-Based Education to develop students' inner potential. All students and faculty practise the Transcendental Meditation Technique, which extensive published research has found boosts learning ability, improves brain functioning, and reduces stress.

Maharishi University uses the block system in which each student takes one course at a time. Students report they learn more without the stress of taking four or five courses at once.

The University has a strong focus on sustainability and natural health, and serves organic vegetarian meals. The BS in Sustainable Living is MUM's most popular undergraduate major.
© Copyright 2010 Global Good News®