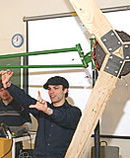 Students in a hands-on course on sustainable technology created a range of practical projects in renewable energy, such as a building a wind generator from scratch.
Maharishi University of Management files report on sustainability in education
by Maharishi University of Management, Fairfield, Iowa, USA
23 October 2009
Maharishi University Management has recently completed its first report on the University's application of the Principles for Responsible Management Education (PRME), a global initiative through which business schools voluntarily report their progress toward sustainability and corporate citizenship.
The PRME initiative calls for business schools to meet the needs and expectations of the business world and the demands of a new generation of students with regard to sustainability and good corporate citizenship. MUM is one of five U.S. universities to date to have submitted progress reports for this initiative.
MUM's report, prepared by professor Dennis Heaton, reviews MUM's achievements in incorporating sustainability in the University's curriculum and research. It also mentions MUM's involvement with the Fairfield Community Sustainability Plan and mentions the recent report for the American College & University Presidents' Climate Commitment Action Plan.
"Responsible Management is natural to the students and faculty in Consciousness-Based Education, where we identify ourselves with the universal basis of all human societies and all living beings -- the Unified Field of Natural Law," said Dr. Heaton, who recently finished teaching a course titled "Socially and Environmentally Responsible Management" to MBA and Ph.D. students.
© Copyright 2009, Maharishi University of Management