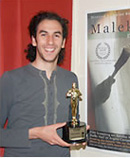 Communications and Media student Amine Kouider won the Iowa Motion Picture Association's Award of Excellence in the college division in 2008.
Maharishi University of Management Communications and Media Department expands
by Lee Leffler, Maharishi University of Management, Fairfield, IA, USA
20 October 2009
The Department of Communications and Media at Maharishi University of Management is adding faculty, a new lab, new equipment, and additional classes—a move that became necessary because of the long waiting lists for digital media classes in this popular new major. It launched two years ago with 12 students, and last year more than tripled to 37 students.
The major recently added two new faculty, Gabriel Romero and Susan McGuire Romero, experts in graphic design with a special interest in sustainable design. The department also hopes to add faculty in video.
Program codirectors Gurdy Leete and Stuart Tanner have scheduled additional sections in narrative, video production, and video editing, and have added new courses on photography and new media (in collaboration with the Department of Art and Design), and on the graphic novel. More are planned.
As part of the expansion, the department bought new Nikon D60 DSLR cameras, 24-inch iMacs, and two new Mac Pro computers, all with the Adobe CS4 Master
Collection (which includes popular software programs such as Photoshop, Flash, InDesign, Illustrator, Dreamweaver, AfterEffects, Encore, and others)
and Final Cut Studio. The department hopes to acquire more Sony V1 and Sony Z1 camcorders, lights, microphones, and scanners.
"We've added a second digital media classroom, so now we'll have two classrooms for in digital photography, digital arts for sustainable living, Web design, video, and media projects," Mr. Leete said.
Program alumni are enjoying exciting opportunities. After Hollywood film director and University Trustee David Lynch met the ambitious students in the Communications and Media Department, he launched DLF.TV, a website about students, creativity, and consciousness. The majority of the staff at DLF.TV are students or alumni of the digital media courses.
"Our students have been doing fantastic work," Mr. Leete said. "In the last few months, students and recent graduates have won a remarkable array of awards for their student work, with four awards and seven nominations at the 2009 Iowa Motion Pictures Association Awards, a Gold Eddy at the 2009 Cedar Rapids Independent Film Festival, and two nominations for Webby Awards, the leading international award honoring excellence on the Internet."
© Copyright 2009, Maharishi University of Management