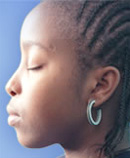 "TM calms me down. It gives me the energy to work hard in school. If I didn't have TM, I don't know what my life would be like."—Patrice, age 13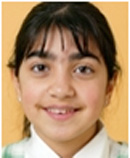 "Transcendental Meditation makes me very happy. I feel happy inside when I meditate and I feel happy when I am done meditating."—Meena, age 12
Students comment on the Quiet Time Program
by David Lynch Foundation
26 June 2009
Students who participate in the Transcendental Meditation/Quiet Time program in schools across the United States are testifying to its powerful and peaceful effect:
'I used to get angry a lot, but now I'm calming down.' —A Detroit middle school student
'Slowly everything started changing and now it's a lot better. Nobody's fighting in our school.' —A Hartford, Connecticut, high school student
'Our school used to be really wild. Now it's all mellow and calm, just how a school's supposed to be.' —A San Francisco middle school student
'I needed to relax. I needed to get a hold of myself again because I think I lost her somewhere. I think what draws people to want to meditate is for their personal gain, to excel and be a better person.' —A Hartford high school student
'I looked at my transcript and in freshman and sophomore and junior years; I had C's all across, and D's, and everything. Now I have A's and B's. The only thing I noticed that changed is that I started doing the meditation and I saw that as the reason it happened, because I've been able to concentrate much better.' —A Hartford high school student
In the past three years, the David Lynch Foundation has provided scholarship funding for more than 70,000 students, teachers, and parents to learn Transcendental Meditation in the U.S., and Canada, and throughout South America, Europe, Africa, Asia, and the Middle East. The newsletter says that half a million students in 60 countries are currently waiting to begin the Transcendental Meditation program, including students in over 100 schools in New York City alone.
To create a less violent, more peaceful world, the David Lynch Foundation is continuing to raise the millions of dollars needed to fulfill its goal of teaching one million at-risk children to meditate.
© Copyright 2009 David Lynch Foundation