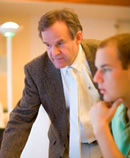 Professor Gurdy Leete and a student in the Communications and Media program work on creative computer designs.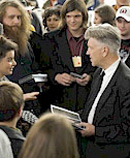 Dr. David Lynch, an award winning film director, writer, and producer, talks with Maharishi University of Management students.

Professor Tanner is an acclaimed producer and director of documentary films for the BBC, National Geographic, the Discovery Channel, and others.
Maharishi University of Management Communications and Media Department expanding
by Maharishi University of Management, Fairfield, IA, USA
18 August 2009
Maharishi University of Management's B.A. in Communications and Media program is the newest and fastest growing undergraduate major with 37 students in the major last semester.
Students in the program can choose classes from three tracks: video and audio production, graphic design and web design, and professional and creative writing. Students and recent graduates have won an array of awards for their work at the Iowa Motion Pictures Association Awards, the Cedar Rapids Independent Film Festival, and the Webby Awards.
"Working with our students is so fulfilling. They are so bright, creative and adventurous, and they care deeply about creating a better world," said Gurdy Leete, co-director of the program.
Inspired in part by a visit to one of the classes, Trustee David Lynch launched David Lynch Foundation Television (DLF.TV) where a majority of the staff is alumni of the program.
"People realize, that because of the internet, they don't have to be in New York or Los Angeles to have their work go somewhere," said alumni Geoff Boothby, Producer at DLF.TV. "The idea that people can be in an environment where they can manage their stress and expand their creativity is very appealing—especially for filmmakers. MUM offers this critical component."
The highly accomplished faculty is one of the draws of the program. Stuart Tanner, co-director of the program, is an acclaimed producer and director of documentary films for the BBC, National Geographic, the Discovery Channel, and others. He recently produced a short documentary about the Ho Chunk American Indians' experience with the Transcendental Meditation program.
Another faculty achievement is Professor Leete's book with Professor Ellen Finkelstein titled Flash CS4 for Dummies, which was their seventh published book on the subject.
To accommodate current and future demand, the department plans to double the number of courses it offers in the 2009-2010 academic year. The department is looking for additional faculty with significant industry experience to teach classes in film and video production, direction, and post-production and in other areas of communication and media.
For information on these positions please contact Diane Prather-Huff at dprather@mum.edu.


© Copyright 2009, Maharishi University of Management