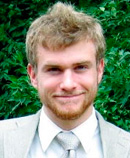 Andrew Perry finds that Consciousness-Based Education has benefited his life in "being able to transcend a situation and see the larger picture, having a holistic understanding, and being more open."
Creating positive change
by Maharishi University of Management, Iowa, USA, Achievements
31 March 2010
Andrew Perry, a Business major at Maharishi University of Management from Fairfield, Iowa, is dedicated to creating positive change. Andrew is president of the World Congress, a student club that specializes in facilitating processes and organizational development for the benefit of MUM and the larger community. As president of World Congress, Andrew is also on the Global Student Council, the student government of MUM.
Andrew learned organizational development, the process of implementing effective change in an organization, with a group of committed students who wanted to create positive transformation and help others achieve their goals. Andrew then completed a six-month internship at the University as a student satisfaction consultant facilitating visioning processes for various departments and building relationships between faculty and students.
"I was able to learn about organizational development theories, applications, and methodologies and discovered I have a deep passion and quite a bit of skill in this area," said Andrew.
Most recently, Andrew and World Congress facilitated the formation of the new music major at MUM by identifying their needs, their resources, and their goals and help them structure their program.
"Andrew skillfully led our large group through a series of steps that made discussions incredibly effective and allowed many creative ideas and solutions to emerge in a short time," said Isabelle Matzkin faculty member of the Music Department. "More than that, he radiates an inner quality of silence and stability that makes people feel nourished and supported. It is a joy to work with him."
Having also attended Maharishi School, Andrew finds that Consciousness-Based Education has benefited his life in "being able to transcend a situation and see the larger picture, having a holistic understanding, and being more open."
Andrew is also passionate about sustainability and works with Sustainable City Solutions, a company that submitted a $250K grant proposal to the Iowa Power Fund to develop a Web application to assist cities in their transformation into sustainable communities.

© Copyright 2010, Maharishi University of Management